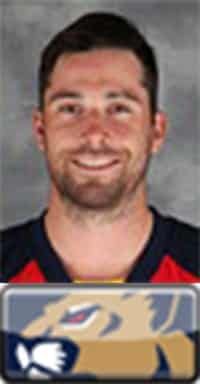 Erik Gudbranson
CAREER STATISTICS G: 2 | A: 10 | P: 12
SOG: 125 | +/-: -41
CORAL SPRINGS, Fla. – Erik Gudbranson had to laugh Monday morning when he was informed he was tied for second in the NHL preseason scoring race (after Monday's games he was tied for third) with six points in three games.
"Don't look at that stuff," he said. "I should go and take a little photo of it and keep it in my back pocket because I don't know how long that's going to last."
For the Florida Panthers, it's all fine and dandy that Gudbranson is showing offensive prowess in the preseason, but it's not what matters.
Florida coach Kevin Dineen said he is a lot more concerned about the overall development of Gudbranson, particularly with the No. 3 pick of the 2010 NHL Draft coming off a disappointing season in 2012-13.
And Dineen has seen a lot of encouraging signs since the start of training camp.
"Erik Gudbranson has been our top defenseman in camp and is right up there for being the top player in training camp," Dineen said after practice Monday. "Has nothing to do with the offensive spurt that he's shown, it's just his poise out there and the commitment that he put in this summer. I think we've noticed immediately that he's more comfortable in certain situations and he's really improved. Between that and his confidence level rising, he's had an excellent camp."
Dineen praised Gudbranson for the work the defenseman put in this summer.
Among other things, Gudbranson worked with skating coach Paul Vincent in Boston. He also made getting ready for the 2013-14 season his sole focus.
It was a sharp contrast from the summer of 2012, when Gudbranson couldn't do much even if he had wanted to after sustaining a serious shoulder injury in a wakeboarding accident.
The accident cost Gudbranson the start of the abbreviated 2012-13 season and he never was able to build on his strong performance in the 2012 Eastern Conference Quarterfinal playoff series against the New Jersey Devils.
"I obviously didn't get hurt, so that's a start," Gudbranson said of the differences between the past two summers. "I just worked hard and did everything that I possibly could to make myself better for this season.
"This summer was really 24/7 hockey. I really took the time in the gym to get as fast and as strong as I possibly could. Took a couple of trips down to Boston to meet with Paul Vincent and work on my skating there and that's been a huge help for me on the ice. It's definitely boosted my confidence and made me trust in my own ability. Just putting in that work and eating well and sleeping well all summer was really huge."
When Gudbranson headed to Boston for one of his skating sessions, Dineen invited him to join him at his lake house in upstate New York.
Gudbranson had dinner at Dineen's house and talked hockey.
"It was great," Gudbranson said. "It was something I really needed to do. It really gave me the perfect perspective as what to expect going into this season. I was able to work hard and work towards what he wanted and what I felt was right as well. Being on that same page coming into the season, I really appreciate that invite and that chat we had."
Gudbranson's offensive outburst in the preseason so far (he has three goals and three assists) clearly is an encouraging sign for someone who had two goals and 10 assists in 104 NHL games the past two seasons.
The Panthers, though, aren't banking on Gudbranson becoming an offensive weapon from the blue line. That's not why they made him their first draft pick after Dale Tallon took over as general manager in the spring of 2010.
But the Panthers do need Gudbranson to step up his game if they hope to contend for a playoff spot. Dineen said he wants to see the Gudbranson he saw in that playoff series against New Jersey.
"Last year was a tough year for him," Dineen said. "He got off certainly on the wrong foot and didn't have a great year by his admission and certainly from what I saw from him last year, my expectations were much higher from him. But I also don't forget how he played on a big stage in the playoffs against New Jersey. I thought he had a fabulous series. So there's a little bit of balance when you're looking at a young guy.
"My expectations are for him to keep growing. It's a little like a stock. It's not going to go through the roof. It's not a penny stock. You're hoping that this blue-chip prospect is just going to keep moving in the right direction. Obviously the work was put in this summer and he's heading in the right direction."
Gudbranson is part of a group of young players the Panthers hope can make a difference this season.
"He's got the tools," veteran defenseman Brian Campbell said. "He can skate, he can shoot. Those are important obviously. I don't know what his potential is. Obviously I feel like it's very high, but I don't want to put a name or numbers on what he could do. You've got to keep getting better every year and hopefully this is kind of a big, breakout year and he can help us on the back end, being so physical. I think he can be a shut-down guy that can definitely add in on the offense."